San Antonio 3D Ultrasound Customer Reviews
Customer Reviews of 3D Ultrasound in San Antonio / 4D ultrasound / HD Ultrasound
---
Over 1000 Five Star Reviews on Google, Facebook and Yelp!
---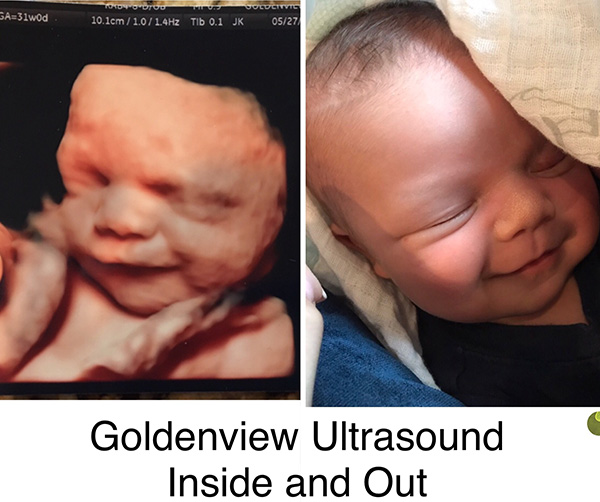 The HD ultrasound is amazing! The technology has come so far just in the two years since we had our first son. You won't believe the clarity! It is so exciting to see your baby's face! The room is nice and plenty of room for siblings and grandparents etc. professional staff and reasonable prices! Check it out!
(Google review August 18, 2017)
Erin Alba San Antonio August 2017
---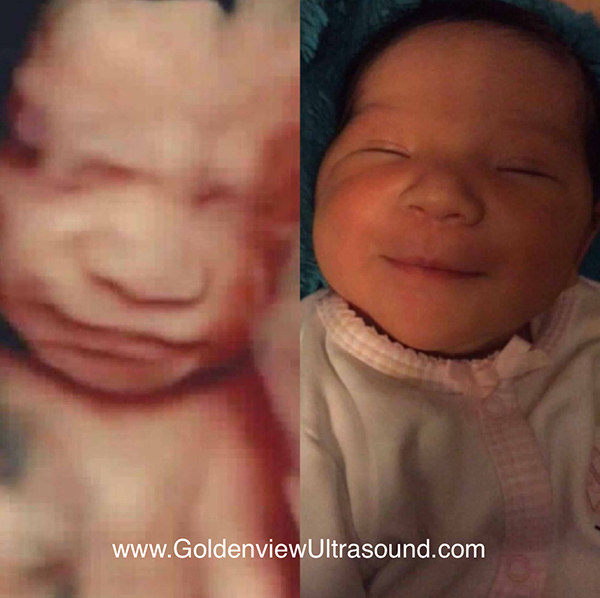 Our little girl 💗 Thank you for y'alls amazing work! She really does look just like her HD ultrasound.
Carolina E. San Antonio Tx. March 2017
---
I absolutely love this place, the staff is very polite and I would definitely recommend this place to anyone! Yvette is my favorite she's so sweet and nice and if you can get her she's the best she got great pics of my daughter! GoldenView is awesome!!!
Maria Castillo San Antonio October 2016
---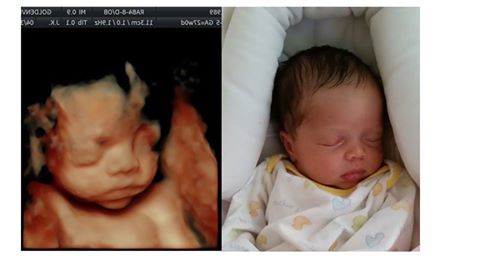 27 Weeks in the womb and her today. She looks exactly the same.
Razshae Wood San Antonio, TX August 2016
---
On our Facebook Page: Went there at 15 weeks for a gender reveal for my Husbands bday gift. The receptionist and the sonographer were very helpful and understanding and glad to help make the gender reveal for my husband very special. He loved the way it was revealed that he was expecting our baby boy due in Dec. 2016
Alexis Portis July 2016 From San Antonio, TX
---


Baby Leo Imaged at GoldenView Ultrasound San Antonio posted on Facebook April 2016
---
5star on Facebook I love coming here! I looked forward to every appointment! Our ultrasound tech (Jackie) is always very nice and personable BUT the girl at the front desk though at my last visit not so much. Anyway we got so many great pics of our baby. I also enjoy watching the video they give you of the whole ultrasound session. I did the 15 week gender Reveal and the Silver package HD when I was 27 weeks. Worth every penny.
Razshae W. May 2016 San Antonio TX
---
5star on Facebook Had the greatest experience having our pictures done to see our 2nd girl Janine..the staff was courteous and took the time to get us good pictures because our lil one was being stubborn..very satisfied with all the pics and the video I got.
Becky E. April 2016 San Antonio Tx
---
Had a great session this past Saturday. We got to see our Peanut and how much she looks like daddy. She even smiled for him. The staff is awesome, very friendly, and helpful. A lot of add-on to choose from at reasonable prices. The HD Ultrasound for a wonderful experience.
W. Aw April 2016 San Antonio, TX
---
GoldenView San Antonio…thank you for the memories! Alexa Grace 9.5.13
Melissa Rodriguez February 2014 San Antonio TX
---
My name is Victoria R. and I am 33 weeks pregnant with my first baby, a boy! I wanted to drop you an email to completely RAVE about Maria. She has done a gender determination scan and three 3D scans for us throughout the course of my pregnancy. I am absolutely in LOVE with her. She was always so excited to see us, and spent time to make sure she got the perfect images. During our gender determination, it took almost the entire time to figure out the sex (this was on my fault, as we were a few days early and it was still very difficult to tell. Baby was so tiny!). She didn't give up and found out for us that we were expecting a boy! Then, at the 3D scans, she got the most precious images of our son. There is no amount of money that is worth what those images are worth to me. She is amazing at her job, and I want you to know just how wonderful she really is as a person as well. I will be recommending her to all of my expectant friends.
Victoria R. San Antonio TX December 2014
---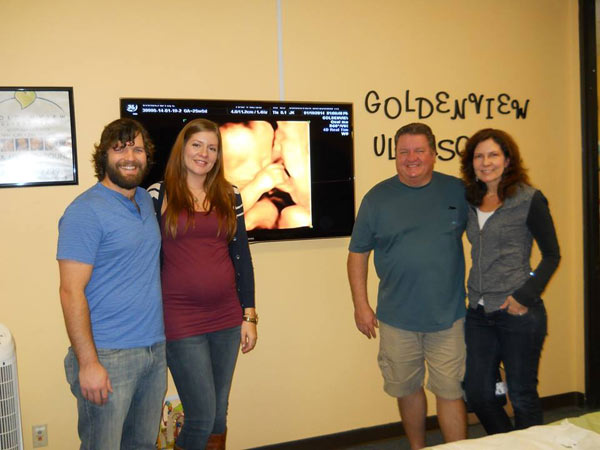 I went to Goldenview Ultrasound as early as 25 weeks and the experience was absolutely amazing. Not only did I get amazing photos of my beautiful daughter, but the staff was incredible. They were warm and welcoming and made me feel right at home. Jackie did my ultrasound and was extremely professional. I couldn't wait to show all my family and friends the photos and video of my sweet girl.
Erika V. San Antonio, TX January 2014
---
I had the best experience ever…First I called the San Antonio operator, she was nice and informative. I was happy and grateful for getting the "gender "appointment on the same day I called. I went to my appointment and met the most wonderful ladies. The receptionist was helpful and seemed happy to answer any questions we had. The lady that was with us during our sonogram was so sweet and funny. She made this whole experience the "best" ever!! I will go back to get a 3d photo package and tell anyone that is looking for this type of service to come to goldenview. Thanks again…..
1st time Mom-Renee H. San Antonio, TX December 2013
---
What a find!!! The staff at GoldenView has been so amazing! The ultrasound was a wonderful experience, highly recommend it! Plus we also did our maternity photo shoot with Jessica and she was the best, we LOVE our photos! Thank you so much, we will be back for our newborn photo shoot!!!
Kat C. San Antonio, TX September 2013
---
My husband and I had an awesome experience with you guys!! We were able to find out that we are having a little girl!!!! The staff, especially the sono tech were incredibly sweet and I felt so comfortable while there. Thank you so much for everything and we plan on coming back in a couple of months to see our baby girl in 3d!!!!!!
Danielle C. San Antonio, TX September 2013
---
Hello Nikki I'd like to take the time to thank your staff for providing such a wonderful experience. My husband & I went 2 mos ago for our gender test and this past Sunday with our parents for a 3D session. Thank you to your staff for the wonderful service. We will gladly go back for future pregnancies. Being our first child, we were very excited to try goldenview and we were not disappointed. Thank you again.
Amanda H. – San Antonio, TX October 2012
---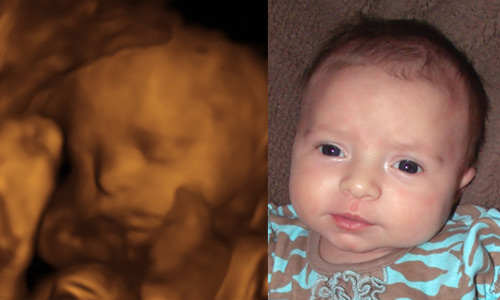 Thanks! She has the dimple in her chin just like in her ultrasound picture. No surprise since both me and my hubby have it, but it was so cool to see it on the 3D/4D. 🙂
Mary O. – San Antonio, TX August 2012
---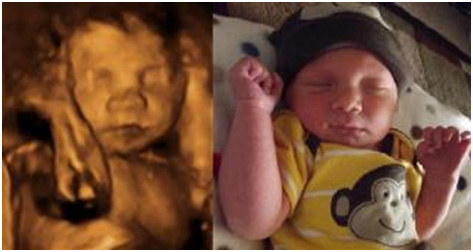 Caleb at 23 weeks GA then at 4 days old!! ♥
Christian M. – San Antonio, TX May 2012
---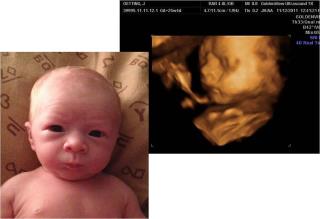 Just had to share…ultrasound at 25 weeks and picture at 3 weeks old, same grumpy face!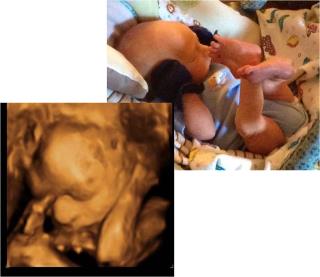 Same pose in the womb and out!
Julie O. – San Antonio TX March 2012
---
Thank you Nikki and Jackie for making the gender ultrasound experience enjoyable and making us feel important and welcomed. Most of all its wonderful to be greeted with a warm smile, I am glad that you two are passionate about what you do Thank you once again. I look forward to seeing you guys in 10 weeks for a 3D/4D ultrasound.
Judi N. – San Antonio TX January 2012
---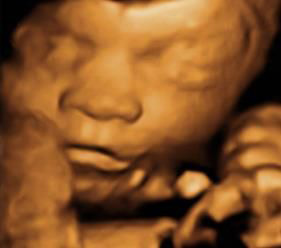 Thank you so much for our 3D/4D sonogram! We absolutely loved every minute of it…It was an amazing experience!!!
Brittany M. – San Antonio TX January 2012
---
Thank you so much for our session today!!! Our parents loved it and it was a wonderful experience we will never forget!!! 😀
Natalie D. – October 2011 San Antonio, TX
---
I just wanted to thank you again for the awesome experience we had yesterday at the ultrasound. Eric and I both thought that everyone was so pleasant and added to our special memory. Having the DVD was a major bonus. We went back and watched it last night and there were several things I realized I had missed at the ultrasound! The biggest one was that he had opened his eyes a few times. We were also able to pause it and count five fingers and five toes;) Seeing his facial features and expressions showed an uncanning resemblance to both his mommy and his daddy. Thank you again, it was incredible.
Melissa P. – October 2011 San Antonio, TX