GoldenView Gives

GoldenView Ultrasound in Chicago IL , Brookline MA, New York City and San Antonio, TX will donate a portion of proceeds from every Hearbeat Huggable sold to charity.
For the remainder of 2017 GoldenView Ultrasound will make donations to the Red Cross for relief efforts in Texas relating to Hurricane Harvey.
Past donations have been made to Red Cross, March of Dimes and Children's Memorial Hospital
Give a HEART and get a HUG!
Purchase a heartbeat huggable and a portion of proceeds will go to the current charity and you leave with an amazing keepsake.
We will record your own baby's Heartbeat inside one of our adorable plush stuffed animals. We have a variety of styles and colors to choose from.* Our Heartbeat Huggables make great gifts for siblings- to- be and other family members in addition to being a priceless keepsake for you. With a variety of styles and colors to choose from, you are sure to find something to go with your nursery.
*Styles and colors may vary.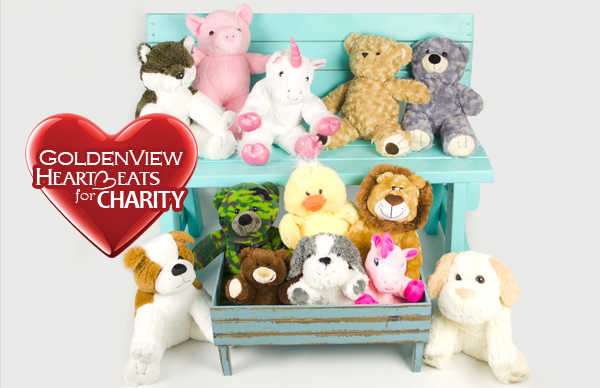 Gift Certificates are available for Heartbeat Huggables and other Ultrasound sessions by calling toll free 888-915-2229
Price to ADD to any ultrasound Package:
Recording of your baby's heartbeat on a heart shaped recording device $15.95
Recording of your baby's heartbeat inside an 8" Plush animal for only $25 or
Recording of your baby's heartbeat inside a 15" to 16" Plush animal for only $35
or Included in our Baby Peeks and Heartbeats Package, Platinum and Premium packages
View package pricing