New York 3D Ultrasound Customer Reviews
Customer Reviews of 3D Ultrasound in New York City (Manhattan) / 4D ultrasound / HD Ultrasound
---
Over 1000 Five Star Reviews on Google, Facebook and Yelp!
---
My family and I really love Goldenview and If I ever have another baby I will come back.
Barbara Hurdas New York, NY September 2016
---
Posted on Yelp
Goldenview was recommended to me by a friend months before I got pregnant and knew it was where I was going to go once I did have a little one on the way. The office is very soothing and tranquil and the staff is super friendly and professional! Roxy did such a great job at working with us to find good pictures of our baby! She was able to capture our baby's first real photos and I will eternally be grateful for that!!!! Loved my experience here and would definitely recommend it to friends and loved ones!
Roseangela P. from Jerome Park, NY July 2016
---
Posted on Facebook
So I had my gender determination this morning at the NY office and they are WONDERFUL!!!!! The atmosphere was very welcoming and calming the staff was very nice the Sono Tech ROXY 👋🏾👋🏾👋🏾was great and I will definitely be bck within the coming weeks ladies this place is great!!!!
Tara Bryan from New York, NY March 2016
---
Hey Nikki,
My name is Melissa C. , i was in the new York office 2 days ago and i have to say its the BEST ultrasound place i could have ever gone to . Right away Tech Jacqueline identified i was having a beautiful baby girl , she explained everything i was seeing on the screen ( first time mom ) .. She was very polite and kind , she did not hesitate to answer any of my questions . I'm amazed of how beautiful and clear my baby girl looked on screen !! I thank her for her patience since my baby girl decided to cover her face with her feet and arm , she didn't give up on seeing her face . Though the appointment was at the last minute , they still managed to get me a spot .. THANK YOU FOR THE WONDERFUL EXPERIENCE !!
Melissa C. Bronx, NY March 2015
---
Hello just wanted to drop a quick email, and say how wonderful my visit to goldenview ultrasound nyc went! My appt was last for last Saturday March 7th! My tech was Roxy, and she was great! I felt at ease, and very comfortable. She was able to determine the sex of our baby, And we are just so thrilled! Can't wait for our bundle of joy to arrive August! Thanks again!
Tiffany R. Ridgewood, NY March 2015
---
★★★★★
Got an appointment doing on line chat on the day before. Easy to find. Facility was clean and it was easy to check in. Note that you have to being proof of having already done your medical ultrasound first- that was stated in the confirmation email. Our tech Jacqueline was very thorough. She gave us a few extra minutes and had me move around to get the baby into better position. This was a success and we got nice photos and video. The equipment all worked well. It was a good value as our insurance did not cover 3D for any medical reason. My husband really wanted it and now I'm glad that we went. Definitely recommended highly

Kelly S. New York, NY August 2014
---
Hello,
I had my ultrasound yesterday and it was the ultimate package. From the moment I booked the appointment until the last moment of my appointment I was treated so nicely. Jacklyn did my ultrasound and was so patient and kind. She said I am having a girl and showed me the 3 lines. It was great and I already told my cousins wife to go because she is due 3 weeks after me.
Thank you,
Amanda S. East Brunswick, NJ December 2013
---
I went with my sister today for her appointment for the ultrasound Imust say it was a pleasant visit. The staff was great, very clean and professional place! I just want to thank the staff for a great experience, thanks to for everything.
Jocelyn V. New York, NY October 2013
---
Hi Nikki,
My husband and I were at the NY location of Goldenview this past Sunday and wanted to let you know that we had a wonderful experience. Both Bianca (I believe that was receptionist name) and Jacqueline could not have been sweeter or more accommodating. We look forward to a return visit!
Thank you,
Peri D. New York, NY October 2013
---
Just wanted to let you know that we had an incredible ultrasound yesterday with Jacqueline as our technician. It was my birthday and my husband and I decided last minute to find out our baby's gender (its a girl!) Jacqueline was so wonderful and made it very special and took the time to explain everything. By far the best ultrasound experience we've had so far – thank you!
Elizabeth R. Brooklyn, NY September 2013
---
My name is Denise P. and I went in for a sonogram on 7/20/2013. The sonographer Jacqueline was amazing. My unborn wasn't wanting to be in a good position to determine the sex. She was very patient and gave great techniques to get my baby moving. Along with my significant other, my 4 year old also attended our session. Jacqueline was amazing and awesome in everything. The secretary was very nice and welcoming to us. We all had such a wonderful and amazing experience seeing our bundle of joy inside my belly. I am definitely recommending this place to anyone I know who is or might be pregnant. Great experience! Thanks sooo much!!!!! 🙂
Denise P. New York, NY July 2013
---
Recently I visited your nyc office for an ultimate gender check and let me just say wow. You have an amazing team. Jacklyn was amazing, was able to tell gender right off the bat, was the sweetest person and was just as excited as we were, also very professional. More so your admin Dina (name on name tag) was an absolute doll. I had booked my appointment with her on the phone a week or so before and she was absolutely the sweetest person, very patient and clear to speak to. When we arrived she suggested we upgrade to a large huggable bear for the baby heart beat and we couldn't be more glad she did. She was very helpful and answered all questions as we were weary from never experiencing a 3d/4d session before. Also wasn't a pushy sales person and didn't make you feel pressured at all. Overall both of your staff were amazing and we can't wait to go back when further along for a 3d/4d session.
Jess P. Richwood, NY March 2013
---
Went in yesterday at lunchtime and HAD to see my baby. Jacqueline was INCREDIBLE. She made the experience even more than expected!! Very patient and informative and determined to get baby to ham it up! The platinum Package was perfect! Looooved it and can't wait for my next visit at 28weeks to get another peek at my beautiful baby! And to do the side by side after birth!!
Raquel R. Jersey City, NJ March 2013
---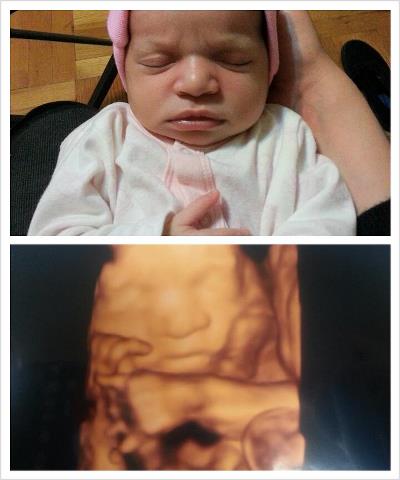 Roxanne Autumn! before and after 😉 like i promised
Paula M. New York, NY November 2012
---
Had a great experience at the NYC location this past Sunday! Staff is very friendly and welcoming. I will be sure to recommend to anyone in the area!
Kerry J.
New York, NY December 2012
---
great place! I went there after reading the reviews here, and they were all right! Roxy was great – she stayed with us for a long time until she was able to tell the sex of the baby for sure, she was very gentle, kind careful and a joy to be around. The price is decent for an elective ultrasound, I would definitely recommend!
Olivia C.
Brooklyn, NY November 2012
---
I went in today for the small $80 package to find out the gender of my baby! I was really satisfied with the service and look forward to going back for a 3D ultrasound. The package of information that was given to me is also great because now I can have keepsakes of my baby that I didnt know was available! Thank you!
Alejandra A.
East Elmhurst, NY July, 2012
---
You really have a wonderful team in the NY office. Roxy is a rockstar — so patient, gentle, caring and knowledgeable. She takes time to explain and doesn't give up, even when baby makes her job a bit more challenging. And Jackie was sweet both on the phone as well as when we checked in with her. I'll definitely writeup a review on yelp and tell others I know about your services.
Peace,
Geeta C.
New York, NY March 2012
---
I first went to have 3d/4d ultrasound on May 14th. Our sonographer was Jackie Malave. She was such a delight to work with. My baby was stubborn & got herself comfortable away from the range. Jackie was very knowledgable & patient. She got me & the baby to move around and we were able to get some nice photos (though not perfect).
Both my husband & I were very pleased with Jackie that when I received a follow up email with an offer to have the same package for less, I went back a week later! I requested Jackie again & she was able to take me. Again, she was a joy to work with. We got even better photos & I was so happy that I went back again!
I just wanted to send you this email to let you know about my experience getting 3d/4d done & also about Jackie.
Thank you,
Kyoko Z.
June 1, 2012 New York, NY
---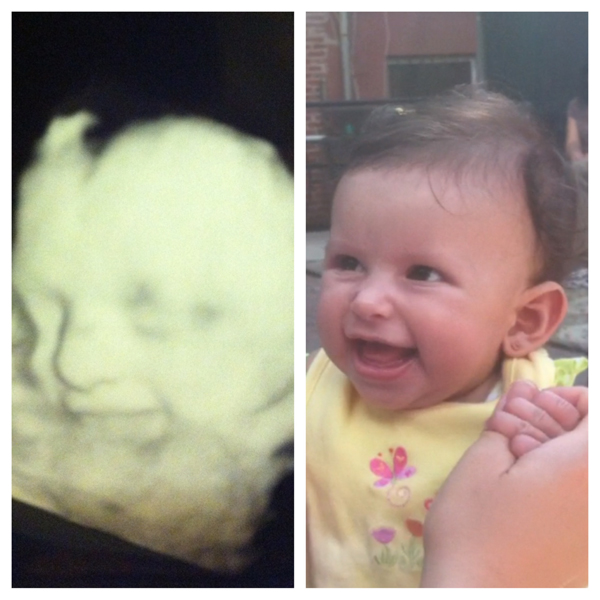 My daughter, Niya McKenzie Gutierrez, was born on April 11, 2012 via c-section. I visited your New York office about two months prior. We were so happy with the results. Here are the before and after pictures of our little girl! Thank you so much for such a memorable experience! Can't believe she smiled while she was being photographed in the womb!!!!! J
Yamira A. April 2012 Bronx, New York
---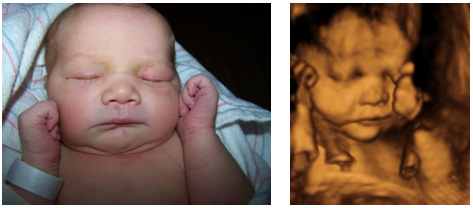 You took pics of Jillian at 32 weeks in the womb. The after pic is her 5days old. I loved how my pics came out and I recommend you to everyone! Thanks again!
Crystal H.
Ashland, New Hampshire April 2012
---
The place in NYC was excellent! Jackie was an amazing sonographer and Nikki was amazingly accommodating! Our little one was totally uncooperative at first, but Jackie was tireless at finding the gender for us. Was an amazing experience I would recommend to anyone!
Kelly S.
Dover, New Jersey February 2012
---
I had a 2pm appt on Sunday jan 29th in NYC. I had my whole family from both sides…. And Jacklyn was amazing. My baby wasn't cooperating and she was so patient and wonderful.
I knew nothing about your business and I was pleasantly surprised at how nice your office and staff was. I will definitely come back if i have another child. I Highly recommend golden view.
Thanks again.
Andie P.
New York, NY January 2012
---
Hi Nikki,
Just wanted to express to you the wonderful experience we had on 10/24/2011 your at NYC office. Tehnician, Jackie, was the best! We really enjoyed our visit and were extremely satisfied with the service, the photos and DVDs. Your receptionist was very sweet, but I don't remember her name, I'm sorry. Thanks so much for the memorable experience.
Sincerely,
Elizabeth P. and Sergio C.
October 2011 Corona, NY
---
Thank u Goldenview Ultrasound for giving me such a great experience. Jacqueline you were amazing! made my experience even better 🙂 I would def go back for my second baby! thank u again.
Cynthia P.
October 2011 Clifton, NJ
---

Wryen Laine at birth and a 3d photo at 29 weeks gestation.
June 2011 Chicago, IL
My name is Christina Y. and I had spoken to you on Tuesday (06/07) re: the bad experience that me and my husband had with another 3D ultrasound facility. After convincing us to give your facility a chance we decided to make an appointment with you for that same day at 7pm. So, I am writing to let you know that we had the best experience ever at Goldenview Ultrasound. From the time we walked through the door your receptionist Jacklyn was very polite and professional. She explained the different packages you had to offer in detail and allowed us to add some items after the session. Your sonographer Roxyann was also very professional and compassionate and as a sonographer myself I can tell she was very experienced. She also provided us with Great images (that we were pleased to show family and friends),was very gentle, and never rushed through the session. Me and my Husband will like to Thank You and your staff for being so kind and professional. The experience at Goldenview Ultrasound helped us to realize that there are still good people out there and we should never give up. I am Highly recommending Goldenview Ultrasound to all my friends and family.Your staff also provided me with pamphlets so I can recommend your facility to my OB office and so that other patients can enjoy the same experience we had.
Once again, Thank You and we will be glad to see you again with our next pregnancy.
Christina Y.
June 2011 Astoria, NY
---
Thank you so much! You ladies are the best!
Can't wait to go back and see baby girl again in a few months 🙂
Melinda V.
June 2011 Staten Island, NY
---
Jackie and Roxy Thank you so much. You both made this day even more special…I also wanted to say you both make a super team. Best wishes always. See you again soon ♥
Gloria R.
June 2011 Staten Island, NY
---
My experience at the Goldenview clinic in New York was amazing, from the time I entered the door to when I left it was the best. N I love the pictures of my bundle, so beautiful. Thank you and thanks so much to the lovely lady that took care of me 🙂
Alison D.
May 2011 New York, NY
---
Hello my name is Isispeoria and i had an ultrasound today. I am writing to inform you of the pleasant experience i had with the sonogram tech Roxy. She was very pleasant from the time we arrived she was also very helpful in moving me as to reposition the baby so we could see her face. She made the experience fun and exciting and seemed just as excited as me to see my baby and what she was doing. I really enjoyed having her perform my sonogram. Overall, it was a great experience that I would recommend to a friend esp. if they could get a visit with her. I also appreciate the fact that you all have a military mom special as my husband is deployed and now he will be able to see our daughter despite being away. Keep up the good work! Thanks again:)
Cordially,
Isispeoria A.,
April 2011 Brooklyn, NY
---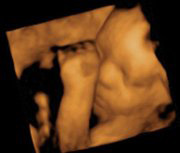 All I can say is that GoldenView Ultrasound is the best place ever, I couldn't have been any happier with my pics and their gentle and kind service. We went their yesterday March 29 and it was just amazing. Jacqueline our ultrasound tech was the best and took amazing pics. Thanks again for introducing me to our new Daughter.
Syreeta G., March 2011
Brooklyn, NY
---
I just want to thank Michelle, and all the staff, for such a wonderful experience! You made my husband and I's weekend. We cannot wait to come back and also recommend all of our friends to you!
Thank you, thank you, thank you!!!
M. and K. Clemons October 2010
Harpswell, Maine