Boston 3D Ultrasound Customer Reviews
Customer Reviews of 3D Ultrasound in Boston / 4D ultrasound / HD Ultrasound
---
Over 1000 Five Star Reviews on Google, Facebook and Yelp!
---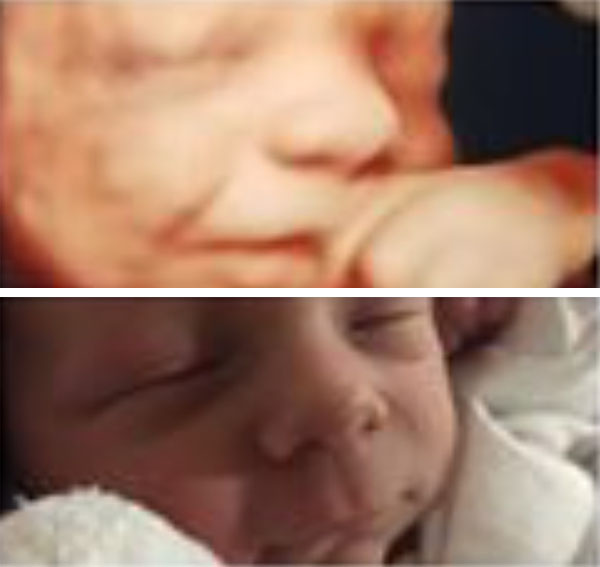 We are shocked at the comparison of my sons HD Ultrasound to his pictures in the hospital. Thank you Goldenview.
Dina Marie Malden, MA April 2017
---
In and Out Babies! Rylan on top ultrasound pic from May 2014 born July 2014 and Bottom of sister Brinley ultrasound pic from February 2016 born May 2016! Thank you to you and your staff for allowing our family the opportunity to come 2 times each pregnancy. One for gender and second for the 5D! So amazing
Rose W. July 2016 from Weston, MA
---
Once again an amazing experience at goldenview ultrasound Boston! We had the pleasure of having Michele she did my previous pregnancy as well both gender and later week scan! Not much longer till we get to meet our "juicy" lipped boy! She also told me he has hair! My other son had just peach fuzz! Thanks again Michele for such a great experience
Megan B. Billerica, MA 0ctober 2015
---
Let me start by saying how extremely happy we are with our experience at Goldenview. We are a repeat customer and definitely don't regret coming back to Goldenview no matter how far it is from our new home. To be perfectly honest one of the reasons why we keep coming back is because of Shelby. Not only is she friendly but she's very professional, kind, outgoing and most importantly always has a smile on her face. We are always so happy to see her because she makes our experience fantastic. She always smiles which I love because it makes the experience even more enjoyable, relaxed and fun! Goldenview is very lucky to have an associate like Shelby. Believe me if not for Shelby and the staff's friendliness and professionalism I would probably go elsewhere. Not because of the experience but because we live over an hour away from Goldenview. Goldenview is very lucky to have Shelby. She truly has a genuine kind personality. Shelby, thank you for your amazing service and providing us with your unsurpassed kindness. Keep up the great work! Thank you for making our experience a one of a kind. Sincerely,
Ria L. Fitchburg, MA October 2015
---
I just wanted to let you know my husband and I came in a few weeks ago for an ultrasound with my 14 year old son. We had a truly special experience! The receptionist was warm and welcoming and we were seen on time. The ultrasound tech was professional but not serious or boring. It was an engaging experience for us all. She had my son and husband participating in the ultrasound by making noises and talking to the baby to get her to move. She answered questions honestly. Although we will not be back for this pregnancy, my son is already talking about going back for the "next" baby! Although the time flew by, we were very very glad we did it!! Thank you for providing this service for pregnant mamas!!
Gloria H. Roxbury, MA July 2015
---
Hello Nikki! My experience at Goldenview was great especially since I got the outcome that I wanted. I have 2 boys at home and I really wanted a girl. when I ever heard them tell me IT'S A Girl!!!! it was the most amazing feeling in the world. Both ladies were very nice and made me feel comfortable. I will be referring my sister in law she's 22 weeks and is dying to have an 3d ultrasound. I'm sure you will see me again soon J
Rosey G. Lawrence, MA March 2015
---
Hello Nikki, We were at the Boston office on Friday, October 10th and our experience was beyond amazing. It was worth every penny. My fiancé and I have watched the video multiple times a day. We are memorized by the video and pictures of our unborn son. The technician, Michelle who performed our ultrasound made the experience very special. She was outstanding at her job. We have already recommended your office to friends and family, as well as a shout-out on FB. The services you provide are remarkable. Thank you for allowing us to kind-of meet our son. We will never forget our experience with you.
Thank you,
Candace S. & Mike B. Templeton, MA October 2014
---
Hi, I just wanted to express my complete satisfaction with my visit. I was traveling from Nantucket that day and was very pleased that I was able to get an appointment on such short notice, and even more when I was running late and was still seen. The ladies in the office were very friendly and welcoming. The young woman who did the ultrasound was very clever. Even though I didn't purchase the video during my session I loved that I was able to purchase it from home and not only purchase it but download it which allowed me to share it with my family and friends which was amazing. I am originally from NY and I can't wait to have my 3D ultrasound at the NY office when I go home later in my pregnancy. To say that I am satisfied with the service so far is an understatement. Goldenview Ultrasound will be my go to place with any future pregnancies and #1 on my referral list. Very excited mommy to be,
Yvelisse S. Nantucket, MA September 2014
---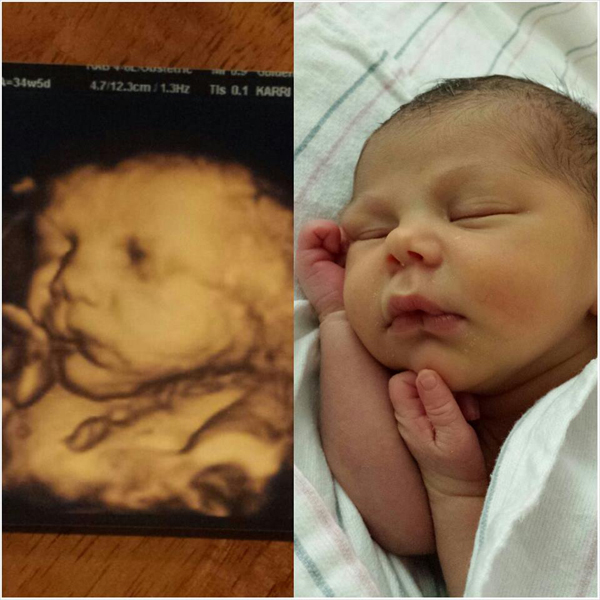 Kevin Ramon – Left ultrasound picture was taken at 34w5d. Picture on the right is him at 2 days old
J. Torres May 2014 Roslindale, MA
---
We are very happy with the service we have received. Kerri is just awesome
Amandeep B. Brookline, MA August 2013
---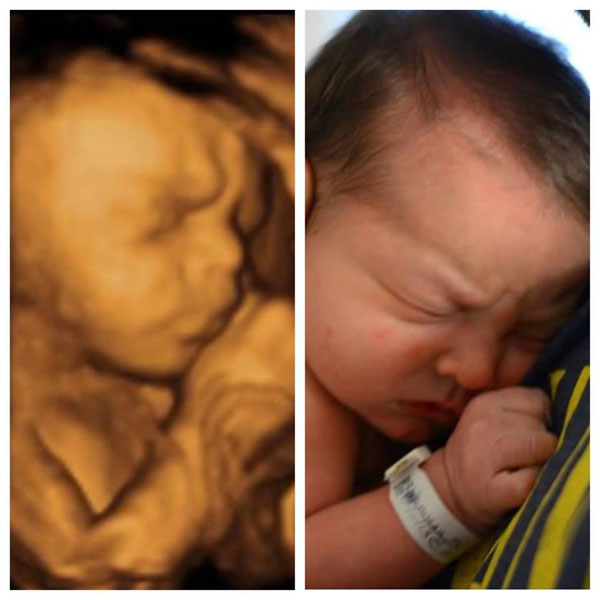 Our baby boy Jackson was born last week on 8/15. Here is our incredible before and after shot thanks to your facility! The ultrasound was taken at 27.5 weeks, photo taken at 2 days old. Feel free to share this. Thanks again!
Celine V. Millbury, MA August 2013-09-04
---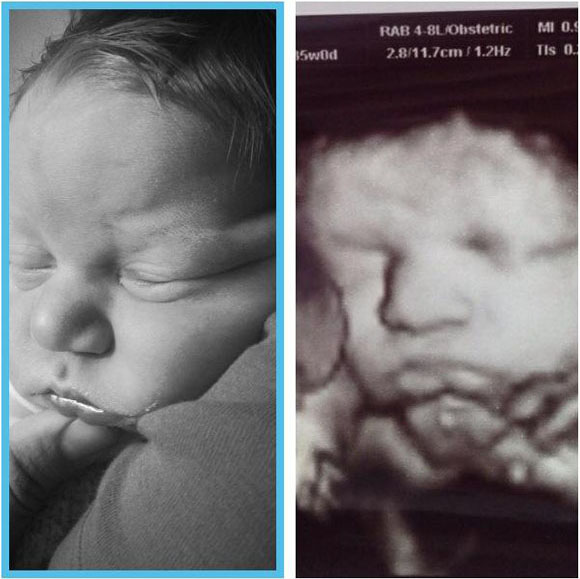 Baby Benjamin right pic with 37 weeks and left pic with with 2 days
Dani P. Revere, MA August 2013
---
I am extremely pleased with my visit to Golden View. The tech and receptionist were very friendly and professional. My little one was on the lazy side and wanted to keep her legs shut. The tech was determined to get a better look even though she thought she saw quickly. Eventually she did get the right position to determine the gender. I really appreciate the time and effort she made for us. Thank you for our wonderful experience. I will recommend you to every pregnant woman I know!
Tamara A. Bridgeford, MA July 2013
---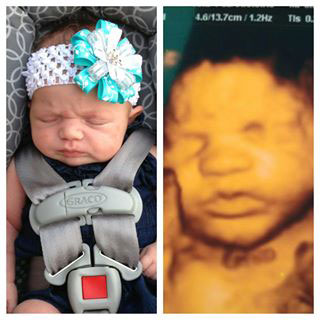 Ultrasound was done at 28 weeks at GoldenView Ultrasound Boston, 10 weeks later my baby boy was born. Couldn't believe how spot on the ultrasound was! Thank you Goldenview for the wonderful experience and preview of my sweet baby
Debbie O. July 2013 Worcester, MA
---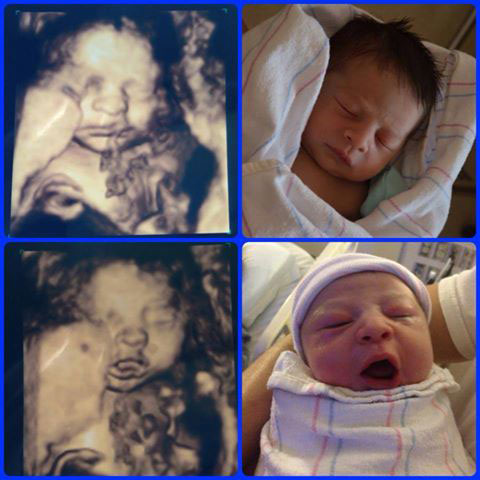 Baby Lucas born May 16, 2013. 3D ultrasound was taken at 29 weeks. Can't believe how accurate it was! Thank you 🙂
Shannon T. August 2013 Sommerville, MA
---
Thank you sooooo much for such an amazing experience yesterday in your Boston office. Hope was absolutely wonderful, she made our experience an exceptional one. And its a beautiful baby girl! We will definitely be returning for the 3d session!!!
Cathryn L. East Hamptons, MA March 2013
---
I had two visit's at goldenview. My first one was great, the ladies were so nice and the room was really warm, not too warm, and comfortable. I loved it. My baby was backwards though and I still enjoyed my session but they offered to let me come back for a redo at no charge! That was so nice because if that wasn't offered I still would have been happy. I just went for my redo today and it was different ladies but they were just as nice and friendly! They made me feel so comfortable and the pictures I got were awesome. I could not have asked for anything better. I don't think I will need to go back for this baby but I will most certainly be back for my future pregnancies and recommend your wonderful place to ALL my friends who are expecting. Also, my husband is deployed and the military special was a huge help. Now I can send him an extra copy of our ultrasound on DVD and I can still keep mine for friends and family to see! Thank you!
Jamie C. – Worcester, MA December 2012
---
I had a great experience! very nice people, my appointment was on time, it was clean, they were lovable and respectful. I'll be sending all my friends here and we'll be back for sure. I'm happy I found this place! thank you!
Claudia C. – Boston, MA October 2012
---
My ultrasound tech at the Brookline office was FANTASTIC. She was knowledgable and so sweet and made me feel so comfortable. Couldn't say enough nice things about her!
Jennifer L. – Attleboro, MA September 2012
---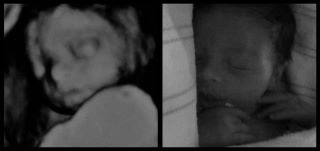 Thought this was amazing! Goes to show how on point 3D ultrasounds are! Great way to get a sneak peak at your munchkin thanks again GoldenView Ultrasound Boston 🙂
Danielle B. – Sommerville, MA March 2012
---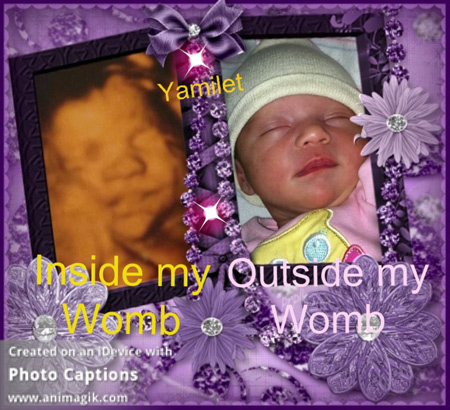 Had a great experience with you guys:) I miss it so much but glad I had my baby girl on october 20, 2011 and I want to share a pic with u guys with the 4D ultrasound pic u guys did for me and the baby when she was born she looks so much like the ultrasound pic it is unbelievable.
Rosalie B. – November 2011 Boston, MA
---
Hi, I just wanted to say thank you for such a great experience! I got my 3D/4D ultrasound of my little boy at 27 weeks, I loved getting to see his sweet little face before he arrived. He is just days old in this after photo and looks so much like the 3D pictures. He makes a lot of the same facial gestures ( like furrowing his brow and sucking on his thumb) just like the 4D images! I was so impressed with this amazing technology and will recommend anyone to come and visit you. Thanks,
Eileen U. – May 2011 Boston,MA
---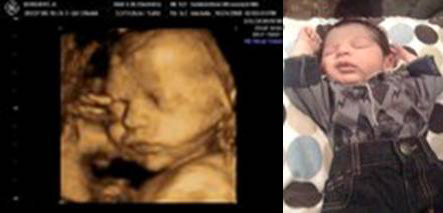 I went to you guys over 2 years ago… this is him in my belly and…This was his little face once he was born! only a week old! It was amazing to have an idea of whats going on inside! We had an amazing experience with you! Thank You!
Ashley B. April 2011 – Haverhill, MA
---
I want to thank you so much everyone loved the ultrasound photos! And thinks he looks like his daddy! 🙂 we had an awesome experience and I have been telling all my friends to go to you 🙂 thanks again and I will make sure to send you some photos after he is born.
Desiree D., February 2011 – Southbridge MA
---
Hi Michele, I had an appointment with you on Saturday December 4th, and I just wanted to say thank you. We were so excited to find out that we are having a baby girl. We were so happy with how the whole appointment had gone. You made us feel so comfortable and at home and it just made our experience so much more enjoyable. You do an amazing job and we just wanted to say thank you so much. Your friends,
Nick, Misty, Brayden (and baby Sophia), December 2010 – Gardner MA
---
Thank you! Thank you! Thank you! I am overjoyed!!!!!!!!!!!!!!!!!!!!!!!!!!!!!!!!! Michelle and the rest of your staff are amazing! I will give my highest recommendations to everyone! Have a fantastic day!!!!!!!!!!!!!!!!
Rochelle C., August 2009 – Wayland MA
---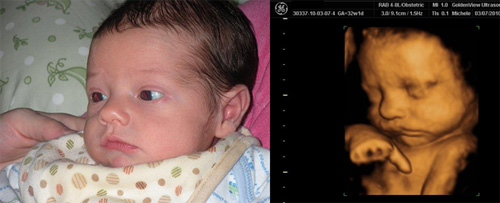 Hello, My husband and I (Erin and Adam B.) were at your facility in Boston back in March. We had a great experience and wanted to share a couple pictures of our son – Jackson B. – born May 8 for your photo books. Thank you!!
Scituate, Massachusetts June 2010
---
Nikki, We are writing to thank you so much for our ultrasound. We were so excited to see our daugher-to-be that we've shown her pictures to everyone and have posted them on millerbaby.com. It has made the whole experience of being pregnant so memorable. We cannot say enough about Michele – sweet, sensitive, caring, informative, reassuring, careful and thorough. We met her at Baby 101, where we were instantly excited about your service, thanks to Michele, and were fortunate enough to have her do our ultrasound. She is the perfect ambassador for GoldenView Ultrasound and, as a result of our experience with her, we will recommend your company to everyone we know. She provided us with an exceptional level of customer service that is rare to find these days. Thank you again for your service and especially for providing a remarkable team for such a precious moment in our lives. We will be sending pictures once our baby is born. If you ever need a reference or testimonial for your services or team, please contact us. Warmest regards,
Marion & Scott M. August 2009 – Waban, Massachusetts
---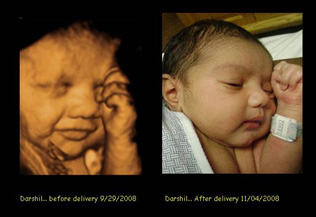 Hi, Hope you remember us!!! We had an appointment with Golden View Ultrasound at our Brookline facility on Monday, September 29, 2008 01:00 PM EDT. You have asked me to send the pictures after delivery…. Here we go!!! Our baby born was on Nov 4th 2008 10:54pm at UMASS memorial. His name is Darshil S. He weighed 7lb 9 oz and 20 inches height.
Selva S. November 2008 – South Grafton, Massachusetts
---
Hi Nikki! Aaww! Thank you! It was an amazing experience that I got to share with my family. They still talk about it. That was the 2nd time we went to Goldenview. The first time was at 19 weeks gestation for a gender determination u/s after we were told at our anatomy scan that we were expecting a "girl" lol Little did we know that it was a baby boy. We will defenitely do it again in the future.
Maylyn T. 11/4/08 – Lawrence, Massachusetts
---
Nikki, I just want to say a big thank you from my wife and I, the appointment that we had was great, it was so rewarding for the both of us in many many ways. The staff at the clinic were superb, the pics, vids that we came away with were fantastic and its something that we will cherish forever, in fact although we came to Boston for other reasons and then came to the scan, I'd now happily come back to Boston only for the scan itself! To top it all off we found out we are having a beautiful baby girl, thank you golden view ultrasound!
Tariq H. 5/31/07
---

Hey Nikki, Been a while since we spoke, but i'm happy to tell you that my wife had a baby girl about 4 1/2 weeks ago and as requested i wanted to send on the scan we got at golden view and a pic just after she was born… now although the similarities can be seen what's really funny/ positive is that the way she has her hand on head in the scan is what she does ALL day long now she out and even still now she's nearly 5 weeks old… Also during the scan we saw that she smiled a number of times and again even still 5 weeks later when she's asleep that's all she does! I hope business is thriving and thanks again for the great experience, regards to both Marina and Gabby if they still remember us!!
Tariq H. 10/16/2007
---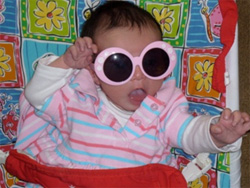 My husband and I visited your Boston office a few months ago for an ultrasound of our first baby and were extremely pleased with our experience. We loved having pictures of our little one. Our family and friends were also excited to see her before she was born. Emily Ruth was born on March 13th and we are so excited, after coming home I was looking at her ultrasound pics and the the pics I took at the hospital and it really is amazing how much your service captures. Here are some after pics. I have been recommending your service to everyone and will definitely be a repeat customer with future pregnancies.
Ariane T. 4/3/07