Boston Facility
Our Boston 3D ultrasound Imaging Facility is located at 1330 Beacon Street Suite 220 at the corner of Harvard Street in Coolidge Corner. We are centrally located in Brookline and the greater Boston area. We specialize in 3D Ultrasound, 4D Live Ultrasound & HDLive Ultrasound (5D) Prenatal Services in Brookline, MA just minutes from Boston.
---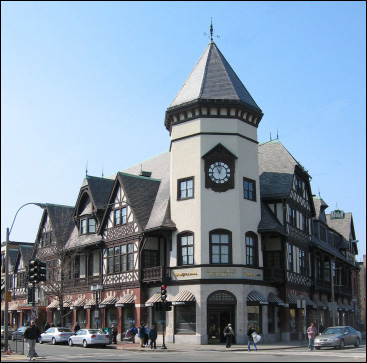 ---
Photos of Our Facility
Lobby  

Reception

Exam room with Large flat screen TV

Exam room with plenty of guest seating
---
Our 3D Ultrasound Boston Facility
Our Boston area facility is located in the town of Brookline, MA adjacent to Boston, MA and is known for its unique shops and diverse restaurants . Our facility can be accessed on the Massachusetts Bay Transportation Authority (MBTA) green line and bus route 66. The Green C Line at the Coolidge Corner Stop is directly in front of our building. We are in close proximity to Fenway Park and Boston University and Boston College and Brigham and Women's Hospital. When visiting us for your Boston 3D ultrasound, be sure to check out many of the world-class dining, shopping and lodging opportunities in the immediate area as well. Come see GoldenView 3D Ultrasound in Boston and make a day of it in the city.
---
---
Map
---
Driving Directions to Our Boston 3D Ultrasound Facility
Directions from Eastbound I 90
I90 East – Take exit 18 to Allston/Cambridge. Turn right at Soldiers Field Rd. Bear right onto the ramp to Boston University . Bear right onto the University Rd ramp. Bear right at University Rd. Turn right at Commonwealth Ave. Turn left at St Paul St. Turn right at Beacon St – go to 1330 Beacon Street Suite 220
From Westbound I 90
I 90 West – Take exit 20 to Brighton/Cambridge. Bear right onto the ramp to Cambridge/Somerville. Turn right at Memorial Dr. Bear right onto the RT-2 E ramp to Brookline/Kenmore Sq. At the traffic circle, take the 1st exit into the RT-2 E entry ramp. Bear right at Boston University Brg. Turn right at Commonwealth Ave. Turn left at St Paul St. Turn right at Beacon St – go to 1330 Beacon Street Suite 220
These directions are for planning purposes only.
Arriving Via Public Transportation
To access our facility using public transportation click on one of the following links:
http://www.mbta.com
http://trip.mbta.com/cgi-bin/itin_page_dhtml.pl
(Enter the destination address as 1330 Beacon Street, Brookline )
Parking at our Brookline 3D Ultrasound Facility
When visiting us for your 3D ultrasound, you'll find there to be ample parking in the municipal lot behind Coolidge Corner accessible via Centre street . You may also park at the meters on Beacon Street or in
the surrounding neighborhood. Please keep in mind that there is a 2 hour limit to street parking in the Town of Brookline . From the parking lot, go to the front of the SS Piece building and find the front door located between Brookline Bank and Radio Sothebys on Beacon Street. The door is open during normal business hours and has a security guard after hours. When visiting us on a Sunday, please call our office at 888-915-2229 ext 2 to let us know you have arrived. We will need to come and let you in the building. Once inside the building take the elevator up to the second floor we are in Suite 220. Please note that we are wheelchair accessible.